Al-Hikmah University, Ilorin, came first in the maiden edition of Prof. Sheu Jimoh's NUJ Inter-Tertiary Institutions Feature Writing and Debate Competition Organized by the Nigerian Union of Journalists (NUJ), Kwara State Chapter.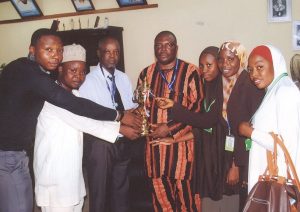 This was revealed by the Chairman, 2014 Press Week, and Mr. Ali Muhammed Rabiu on 15 may, 2014 at the Dinner / Merit Awards Organized by the Union to mark the Annual Press Week of the Union at Savana Centre, Ilorin, kwara State.
According to the Chairman, six tertiary Institutions offering Mass Communication participated in the competition on 7 April, 2014, at NUJ Press Centre in Ilorin. They were University of Ilorin, Kwara State University, Malete, Al-Hikmah University, Kwara State Polytechnic, Federal Polytechnic, Offa and College of Arabic and Islamic Legal Studies (CAILS), Ilorin.
The chairman disclosed that in Feature Writing, Al-Hikmah University came first with 481 points, Federal polytechnic Offa and Kwara State University came second and third with 415 and 400 points, respectively.
He stated further that Al-Hikmah University emerged second runner-up in the debate competition among the three schools that supported the motion.
He, therefore, congratulated all the participants and implored all students to imbibe the habit of reading and writing
The picture above shows the wining team of Al-Hikmah University in the Vice-Chancellor's office, with the Head of Department of Mass Communication and some lecturers in the Department.