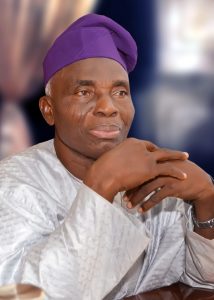 Name:Alhaji (Chief) (Dr) AbdulRaheem Amoo Oladimeji, OFR, FNAEAP
Jagunmolu of Igbominaland;
Arogundade of Lagos;
President-General, Abdur-Raheem Oladimeji Islamic Foundation (AROIF), Nigeria
Position: Founder
Alhaji (Chief) (Dr) AbdulRaheem Amoo Oladimeji, OFR, FNAEAP, was born on June 8, 1938 to Malam Yusuf Oladimeji and Madam Awawu Oladimeji, both of Ile-loke Compound, Baale Quarters in Igbaja, Ifelodun Local Government Area of Kwara State.  His father was a successful farmer, hunter, herbalist and trader.  His mother, an offspring of the first Iyalode of Igbaja, was a reputable poultry farmer.
EARLY LIFE:
Alhaji Chief AbdulRaheem Oladimeji, OFR, FNAEAP, lost his parents when he was still an infant. He has no formal education, but he can speak, read and write Yoruba, Arabic and English, all these through self-education and determination. He had a very challenging beginning.  Without formal education he had to fend for himself, therefore, at a tender age of ten, he started his life as a houseboy to an Egba woman known as Iya Sikira at Isale-Gangan, Lagos, in 1948.  He was then ten years old.  His monthly salary then was seven shillings.  In 1950, he became a trading apprentice and later transferred his service to Pa Gabriel of Iludun-Oro on a salary of eight shillings per month.  It was through Pa Gabriel that he learnt the art of trading, plying the riverine areas of Ojoo, Ejinrin and Badagry in the former Western Region of Nigeria.  Later, with the assistance of his eldest brother, Alhaji Atiku Atunde, he became apprenticed to Alhaji Usman Alabi, a friend of his brother's.  After spending about eleven years with Alhaji Usman Alabi, popularly known as Summonu Wonsole, in the trading area of Dosumu street, Alhaji AbudlRaheem was given a take-off grant of one hundred and eighty pounds, the equivalent of today's three hundred and sixty Naira, to start his life as a trader.
THE MARCH TO STARDOM
A self-made man, Alhaji (Chief) (Dr) AbdulRaheem Oladimeji's rise to stardom has not been on a platter of gold, but by dint of hard work, dedication and perseverance.  Fate eventually smiled on him during the Nigerian Civil War (1967-1971), when he was engaged as a contractor to the Nigerian Army and Nigeria Police Force in the areas of supplies and transportation.  It was at this period that he made a breakthrough in his business endeavours.  He later veered into merchandizing, manufacturing and construction.  Propelled by his philosophy, which sees life as characterized by constant struggle, and equipped with a determination to make the world better than he met it, Alhaji (Chief)(Dr) AbdulRaheem Oladimeji, with Allah's abundant support and blessings, rose to become the owner of a chain of companies and business enterprises which make him a personality internationally recognized.  Some of his companies and business enterprises are:
Alhaji Raheem Oladimeji and Sons Ltd, which deals in importation and distribution of fire-arms and ammunitions.
Universal Chemical and Explosives Company Ltd, involved in the importation and production of chemicals and explosive products.
Dynaco Nigeria Company Ltd, dealing in mining and processing of precious stones.
A. Oladimeji Agriculture Ltd, a company involved in agriculture, food processing, poultry and livestock production and fishing.
Alhaji Rabi Allahu and Sons Ltd, a Building and Electrical Engineering Contractors.
Abdur-Rahim Oladimeji Islamic Foundation (AROIF), Nigeria, the official proprietor responsible for the establishment of Al-Hikmah University, Ilorin.
PHILANTHROPIC GESTURES
Alhaji (Chief)(Dr) Abdur-Raheem Oladimeji's philanthropic posture has no bounds.  He readily donates to the establishment and renovation of educational institutions just as he does to communities in support of their social and economic projects.  His philanthropy is not ethnic driven.  It cuts across all the thirty-six states in Nigeria.  Some of his philanthropic outreaches are:
(a)     EDUCATIONAL OUTREACHES:
Over 100 scholarship schemes for primary, secondary and tertiary levels of education
Endowment of prizes and awards in some Nigerian Universities.
Donation of a building to University of Ilorin Secondary School for Introductory Workshop in 1991.
Office and Classrooms Complex donated to Muslim Secondary Commercial School (MUSECO), Igbaja, in 1991.
A block of three classrooms/Stores Complex donated to Community Primary School, Igbaja.
Donation of Hostel worth N millions of Naira to University of Ilorin Teaching Hospital Clinical Students in 1994.
Donation of blocks of classrooms to fifteen communities in Kwara State between 1991-2005.
N5 million donated to Katsina State Education Trust Fund in 1997.
Establishment of Al-Hikmah University, Ilorin.
Alhaji Abdur-Rahim Oladimeji has made and is continuing to make a lot of contributions to the establishment, growth and sustenance of Al-Hikmah University, a faith-based conventional University, sited in Ilorin, the Kwara State Capital.  Some of his singular efforts are highlighted as follows:
As-Shaykh Abdur-Raheem Oladimeji single-handedly established and financed the Abdur-Raheem Oladimeji Islamic Foundation (AROIF) Nigeria, duly registered with the Corporate Affairs Commission. This Foundation (AROIF) is the official Proprietor responsible for the establishment of Al-Hikmah University in January, 2005.
As-Shaykh Abdur-Raheem Oladimeji provided all the infrastructure in terms of land, buildings (such as the mosque, offices, lecture rooms, library etc), electric power generators and other resources worth N2.8 billion for the smooth take-off of Al- Hikmah University, Ilorin, as from 2005/2006 Academic Session.
As-Shaykh Abdur-Raheem Oladimeji has promoted considerable amount of interaction and contacts among Muslims across borders for the development of learning and scholarship in tertiary institutions.
As-Shyakh Abdur-Raheem Oladimeji has continued to contribute a substantial proportion of his personal resources to the development and sustenance of Al-Hikmah University. This can be seen in the perimeter fencing of Atere Campus of the University during the year 2009 and the clearing of the Campus site in 2011.
As-Shaykh Abdur-Raheem Oladimeji also released, in 2008, additional hectares of land for expansion at the Adewole Estate Campus of the University. The land currently hosts the 200- room Female Hostel Complex and the site for the proposed Library Complex.
As-Shaykh Abdur-Raheem Oladimeji has continued to put into play at Al-Hikmah University his enviable record of quality service in the construction industry. This is vividly reflected in the execution of construction works with outstanding quality on campus, especially the expansion of the classrooms in 2007, the construction of borehole and overhead tanks for water at the female hostel in 2009, the raising of the Administrative Block, and the construction of the Central Stores to house the staff of the Stores Unit and the Works Department of the University, as well as the 72-room new Female Hostel Extension.
The contributions of As-Shaykh Abdur-Raheem Oladimeji to the promotion of educational development at all levels have earned Al-Hikmah University much glory outside Ilorin, as evidenced by the desire of Igbaja community to release the entire land, buildings and other facilities at the former site of MUSECO in August 2008 to serve as the Igbaja Campus of the University. The Igbaja Campus has today become a good feeder for Al-Hikmah University.  The campus will, Insha Allah, host our degree programmes in the College of Education as well as the Foundation Programme of the University.
(b)     DONATIONS TO SOCIO-ECONOMIC COMMUNITY PROJECTS:
Several millions of Naira donated towards over 300 community development projects in and outside Kwara State between 1991 and 2010.
(c)      DONATIONS TOWARDS RELIGIOUS PROJECTS:
N3 million worth Unilorin Central Mosque at the University Mini Campus.
N100,000 donated to Cherubim and Seraphim Church, Idimu-Lagos at its Foundation Laying Ceremony.
Cash Donation to the University of Ilorin Central Mosque at its Permanent Site.
Donation to Oke-Onigbin Central mosque.
Donation to Islamic Cultural Centre, Ede, Osun State.
Donation towards the renovation of Ijomu-Oro Muslim Community Central Mosque and Mosudo Central Mosque.
Donations to Ansarul Islam Society of Nigeria projects in Ilorin and Lagos.
Building of an ultra-modern Central Mosque in the premises of Al-Hikmah University to establish a spiritual link between Town and Gown.
PROMOTION OF SPORTS:
As the Life Patron and Proprietor of two professional soccer clubs-Oladimeji Babes and Oladimeji Tigress-Alhaji Oladimeji has committed a large sum of money to the promotion of sports in Nigeria.  One of the clubs, Oladimeji Tigress, is well-known in female soccer in and outside Kwara State, having featured in Female National Division One League.  He has also made cash donation towards the University of Ilorin Mini-stadium project.
HONOURS, AWARDS AND CHIEFTAINCY TITLES:
Alhaji Abdur-Raheem Oladimeji's hard work, dedication, honesty and outstanding philanthropic efforts have endeared him to governments at all levels-local, state and federal- as well as to organizations and individuals in and outside Nigeria. He therefore has a lot of honours and awards to his credit in appreciation of his outstanding qualities.  Among these are:
Officer of the Federal Republic (OFR), given by the Government of the Federal Republic of Nigeria.
Doctor of Philosophy in Business Administration (Honoris Causa) of Al-Hikmah University, Ilorin.
Kwame Nkrumah Leadership Award, 2012 by the African Leadership Forum. Accra, Ghana.
Fellow of the Nigerian Association of Educational Administration and Planning (FNAEAP).
Kwara State Government Merit Award in Philanthropism.
Distinguished Award for Excellence in Educational support by the Niger State indigenes graduands for the 2014 convocation, Minna, Niger State.
Ifelodun Local Government Merit Award for Contributions to Community Developments.
Jagunmolu of Igbominaland
Arogundade of Lagos, Lagos State.
Seriki of Omu-Aran.
Bashorun of Iloro-Ekiti, Ekiti State.
Otunba of Obbo-Ayegunle
Mayegun of Ayedun-Ekiti
Gbobaniyi of Erin-Ile.
Atayese of Oroland
Aare Tayese of Ijagbo
Bajulaye of Okun-Owa, Ijebu, Ogun State
Ajagunna of Odo-Owa
Olukotun of Ila-Orangun.
Bobagunwa of Ayetoro-Gbede, Kogi State.
Otunba Balogun of Okuku, Osun State.
Asiwaju of Ireseland.
RELIGIOUS CHIEFTAINCY TITLES:
Alhaji Abdur-Raheem Oladimeji's contributions to religious activities in and outside Kwara State has also earned him several religious chieftaincy titles, among which are:
Aare Igbomina of Omo Ibile Igbomina of Kano State
Aare Musulumi of Ilawo-Ejigbo.
Baba Adiini of Ora Land.
Aare Musulumi of Igbomina/Ekiti.
Baba Isale Adiini of Ireseland.
Giwa Adiini of Nawairu-ud-deen Society of Nigeria, Ebute-meta Branch, Lagos.
Babasale Adiini of YOUMBAS, Kwara State Branch.
Mogaji Adiini of Ansarul-Islam Society of Nigeria.
Balogun Adiini of Agbamu.
Baba Adiini of Oka-Akoko.
SOCIAL HONOURS
Alhaji (Chief) (Dr) Abdul-Raheem Oladimeji's contributions to individual social organizations have also made him a friend to all and sundry.  No wonder that he has been either Patron or Life Patron to many organizations in and outside Kwara State.  Some of the associations are:
Nigeria Union of Journalists (NUJ), Kwara State Chapter.
Sports Writers' Association of Nigeria (SWAN), Kwara State Chapter.
Kwara Prestige Club, Lagos.
Mobolaje Social Club, Lagos.
College of Education, Oro Alumni Association, University of Ilorin Chapter.
Kwara State Football Association, Ilorin.
Sports Writers' Association of Nigeria (SWAN), Oyo State Chapter.
Kwara Ready Made, Lagos.
Itesiwaju Ladies' Club, Lagos.
Irepodun Irese Social Club, Lagos.
Jimoh Aliu International Theatre Group Nigeria Limited, Lagos.
FAMILY LIFE:
Alhaji (Chief) (Dr) Abdur-Raheem Amoo Oladimeji, OFR, FNAEAP, the Jagunmolu of Igbominaland and Arogundade of Lagos, is an epitome of an ideal family man.  He is happily married and has several children, grand-children and great grand-children.