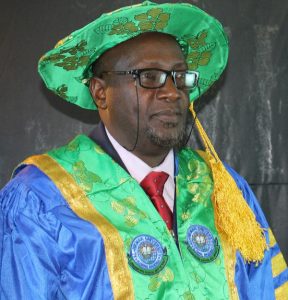 RESUME ON DR. LATEEF FOLORUNSHO OLADIMEJI, FCIPM
DEPUTY VICE-CHANCELLOR, AL-HIKMAH UNIVERSITY, ILORIN
2ND OCTOBER, 2018 – DATE
Biodata:
Dr. Lateef Folorunsho Oladimeji was born on 9th April, 1963 in Lagos to the family of Late Chief Imam Alh. Oseni Oladimeji and Alhaja Muneerat Oladimeji. He hails from Doyin Compound of Oko-Ode in Ifelodun Local Government Area of Kwara State. The first son of his parents, Dr. Oladimeji is the 3rd of the thirteen children of his late father.
Educational Background: 
He had his Primary School Education at Local School Management Board (LSMB) Primary School Oko-Ode between 1969 and 1974. Afterwards, he left for Lagos Secondary Commercial Academy (LASCA) Obanikoro for his West African School Certificate (WASC) between 1975 and 1981. Lateef Oladimeji was the first pupil to register for and came out with A1 Distinction in Islamic Studies even without the school offering neither Islamic Religious Knowledge, IRK nor a teacher for the subject. This spectacular feat encouraged LASCA in 1981 to recruit IRK Teacher under a Christian Principal Mrs. Gbemiye Etta who felt proud of the young Lateef for doing the school proud while over 312 students who sat for Christian Religious Knowledge, CRK could only muster 41 students with C4 passes.
After Post-Primary Education, Lateef Oladimeji proceeded to the University of Ilorin in 1983 where he obtained his Bachelor of Arts degree (B.A. Hons.) with Second Class Honours (Upper Division) in Islamic Studies. Again, he was the best student in Islamic Studies during the 1987 Convocation and was thus given the Islamic Publications Bureau Award for the year. For this feat, Lateef Folorunsho Oladimeji was retrained in his Department (Religions) Faculty of Arts for the mandatory National Youth Services (NYSC) Programme in 1987/88 service year. He also won the Unilorin Postgraduate Scholarship Award which enabled him pursued and successfully completed his Master of Arts degree (M.A.) in Islamic Studies, 1989. Furthermore, Lateef Folorunsho Oladimeji enrolled and successfully completed another Master degree in Public Administration (MPA), in 1995 for his organization and leadership qualities, he was the elected Pioneer Director-General (D.G.) of the Master of Public Administration Students (AMPAS) for the 1994/95 Academic year. In addition, he enrolled and successfully completed his Postgraduate Diploma in Education (PGDE) in 2000 and to cap it all, he bagged his Doctor of Philosophy degree (Ph.D.) in Islamic Studies in 2005, all from the University of Ilorin, Nigeria.
III. Career Development:
Dr. Oladimeji began his teaching career at Crescent Nursery and Primary School, Victoria Island in 1981 as a Junior Staff teaching Arabic and Islamic Studies. After his University Education, he worked briefly with the People's Bank of Nigeria as filed officer before joining the service of the Kwara State College of Education, Oro as Assistant Lecturer in 1992. He rose through the rank to the position of Principal Lecturer and Head of Department of Islamic Studies and was there up till 2006 when he voluntarily withdrew his service form the College to join the newly established Al-Hikmah University as Lecturer I. He was one of the few pioneer staff and member of the senate of the University since its inception.
Academic Publications:
To date, Dr. L.F. Oladimeji has 43 Academic Publications from Journals, (14 Nos) Local, National and International as well as 24 Nos chapter in Books to his credit. He also has 3 Nos Instructional materials used by undergraduate students of the National Open University of Nigeria (NOUN) on Qur'an and Hadith as well as study materials (Pack) for Diploma Students of the Chartered Institute of Personnal Management (CIPM) to his credit. This is in addition to one letter of acceptance for a Journal Publication. For International recognition some of Dr. Oladimeji's publications were cited in the 2009 Bulletin of the African Association for the Study of Religions (AASR), based in Botswana. 
Membership of Professional Bodies:
Dr. Oladimeji belonged to the following Academic and Professional Bodies both within and outside Nigeria:
Member, American Academy of Religion (

AAR

) Membership No Z1003

Member, African Association for the Study of Religions (AASR).

Member, Nigerian Association for the Study of Religions (NASR).

Member, Nigerian Association of Teachers of Arabic and Islamic Studies (

NATAIS

) 

Member, Nigerian Association for the Study of Religions and Education (NASRED), National Vice-President (West)

Member, Nigerian University Scholars of Religions (NUSREL)

Fellow, Chartered Institute of Personnel Management of Nigeria (CIPMN) 2006

Fellow, Chartered Public Administrators of England and Wales – 2006
Outstanding Contributions to Al-Hikmah University, Ilorin
Lateef Folorunsho Oladimeji was the Public Relations officer to the Abdur-Raheem Oladimeji Islamic Foundation (AROIF) the body which was the brain behind the Founding of Al-Hikmah University. The activities of the Foundation under the leadership of the President-General, Alhaji Chief (Dr.) AbdulRaheem Oladimeji, OFR, FNAEAP culminated in the issuance of operating License 010 for the University by the Federal Government of Nigeria on 7th January, 2005. Dr. Lateef Oladimeji was fully involved in all the process as serving as "errand boy" for the Founder and the Foundation. Apart from these, he also has the following records: 
Facilitated the donation of N75 million Naira (in installments) by the Former 
Governor of Kano State Alh. (Dr.) Ibrahim Shekarau for the construction 
of Science Laboratory of the University  2006-2009
Facilitated the Annual Bursary awards to the best students of Arabic and 
Islamic Studies (100-400 levels) by the Education Welfare Foundation, 
Lagos             2009-date
Facilitated the Annual Zakat of N1million Naira from the Wahab Folawiyo 
Foundation to Al-Hikmah University Ilorin 2011-date
Facilitates the monthly Special Prayer of AROIF as a spiritual value for the 
sustenance of Al-Hikmah University 2006-date
Initiated the 1

st

National Conference on Security and National Development 
by the Faculty of Humanities and Social Science 2013
Facilitated the donation of sum of N860,000 (Eight Hundred and Sixty
Thousand Naira Only by the Former Governor of Kano State Mallam (Dr.) 
Ibrahim Shekarau for the Production of the Publication (2 volumes) of the 
proceedings of 1st National Conference on "Security and National 
Development in Nigeria".
Facilitates annual Anonymous Scholarship Awards to Indigent Students of 
Al-Hikmah University 2010-date
Volunteered my personal car TOYOTA CAMRY Registration No EJ 167 SMK 
for the use of the Vice-Chancellor (Prof. R.D. Abubakre)in the absence of an 
official car  2008-2010
Initiated the Annual Hijrah lecture to mark the Hijrah Celebrations at 
Al-Hikmah University (since 2011) 2011
Extra-Curricular Activities (Within Al-Hikmah University)
Member, Planning and Implementation Committee (PIC) Al-Hikmah University (Proposed)

1998-2004

Pioneer Acting Head of Department, Islamic Studies

2006-2009

Chairman, Socio-Cultural Sub-Committee of the Extra Curricular 
Activities Committee, 2006-2010
Chairman, Al-Hikmah Flag Design Committee

2006

Member, Students Disciplinary Committee (SDC),

2006-2012

Member, Al-Hikmah University Marketing Committee

2008-2011

Member, Accreditation Implementation Committee for the University

2008 

Member, Students' Utility Committee

2008

Pioneer Editor, Al-Hikmah Journal for the Humanities,

2008-2012 

 Acting Director Information Unit

2009-2011 

 Member, Editorial Board of the Spring Board Journal,
Al-Hikmah University Ilorin, 2009-date
 Pioneer Registrar/Secretary to Governing Council

2011- 2012  

 Member, Ceremonials Committee

2011

 Chairman, Publicity Sub-committee, 1

st

Convocation Ceremony

2011 

 Member, University

Hijrah

Celebration Committee

2011-date

 Member, Inter-University Qur'an Recitation Committee

2013-date      

 Chairman, University Documentary Committee

2015-date

 Acting Director, Academic Planning Unit

 

  2016-date 

 Ag. Director, Centre for Part Time and Professional Studies

2016

 Secretary, Academic Programme Planning Committee (APPC)

2016-date

 Chairman, Exams Time Table and Space Allocation Committee
Tutor, JUPEB (Islamic Studies)    2017-date
 Secretary to the Board of Trustees, Al-Hikmah University

2018-date

 Chairman, Ceremonials Committee

2018-date
VII. Professional Accomplishments:
Member Accreditation Committee of the National Commission for Colleges 
of Education (NCCE) to Adamu Augie College of Education, Argungun, Kebbi 
State 3rd to 6th February 2009 2009
Member Accreditation Committee of the National Commission for Colleges of 
Education (NCCE) to Borno College of Legal and Islamic Studies and KASHIM IBRAHIM COE Maiduguri Borno State 5th to 10th December, 2007
Part Time Principal Lecturer/Facilitator in Islamic Studies and Masters in 
Public Administration (MPA), National Open University (NOUN), Ilorin Centre 2008-date
Adjunct Lecturer in the College of Management and Social Sciences, 
Department of General Studies, Fountain University Oshogbo 2008-2010
External Member of Interview Panel, Fountain University, Osogbo 2017-date

Chairman Publicity and Member, Local Organization Committee (LOC) 
4th International Conference on Islamic Universities by the International 
Institute of Islamic Thought (IIIT) October 2017 2017
VIII. Community Services:
Member, Memorization Competition Hosted by Kwara State Government 
with Al-Hikmah University as Venue. 2017
Member Secretariat Committee, Kwara State Committee on Religious 
Matters at a Seminar for Religious Preachers, 2008.
Chairman, Communique Committee Seminar Organised by Kwara State 
Committee on Religious Matters for Political Parties, 2008
Chairman Board of Governors, Ansaru'l-Islam Secondary School, Oko-Ode

2005-date 

Chairman, Abudul Azeez Attah Group of School PTA

2004-date

Secretary, Community for Publication of History on Ifelodun Local 
Government Area (1976-2003) 2004
Member, Kwara State, Technical Committee on Hajj,

2002

Public Relations Officer, Unilorin Muslim Community

1996-2000

Presenter of

Sirata'l-Mustaqim,

A Weekly Islamic Discussion Programme 
on NTA Ilorin. 1995-2002
Executive Secretary, Kwara State Muslim Pilgrims Welfare Board 1995-1998

Assistant Secretary, Islamic Welfare Foundation (IWF) Kwara State Branch.

1992-1994

Secretary,

Shari

-c

ah

Committee to the Nigeria

Da

c

wah

Co-ordination 
Council (NDCC) 1992-1994
Secretary-General, Muslim Corpers Association of Nigeria

1987-1988

Chief Missioner, Unilorin Muslim Ladies Circle

1985-date
Students Project Supervision:
So far Dr. L.T. Oladimeji has successfully supervised 12 Masters of Arts Dissertations (M.A) and over 100 Long Essays (B.A) of Undergraduate Students in Islamic Studies. He is currently supervising four Master's Dissertion and six Long Essays of Students in Islamic Studies.
Conferences/Seminars/Workshops:
Dr. Oladimeji, from the records has attended over 40 Conferences, Workshops and Seminars both at the Local, National and International forum. He has also served as member and chairman of Local, National and International Conferences where he was able to demonstrate his organizational ability and passion for ensuring co-ordination. Dr. Oladimeji, no doubt is an effective mobilize with Team Spirit and Strewed Leadership qualities.
Hobby:
His hobby includes driving, reading and table tennis.