A Speech by the Pro-Chancellor and Chairman of Governing Council, Al-Hikmah University, Ilorin, Alh(DR) Ibrahim Ahmadu Coomassie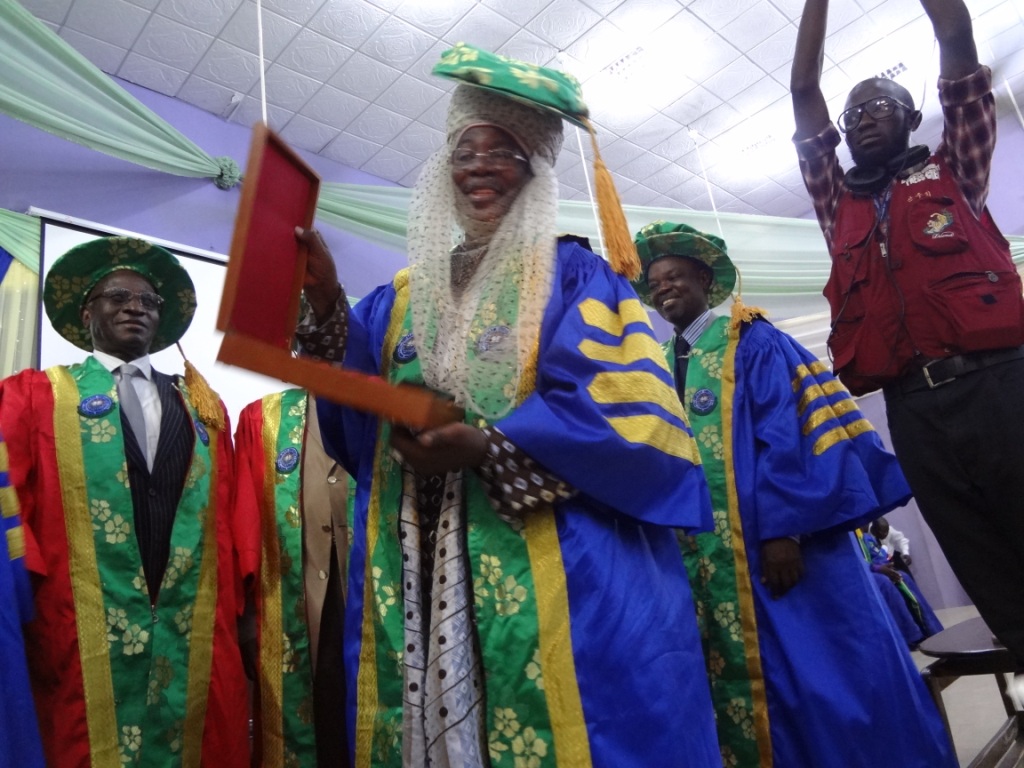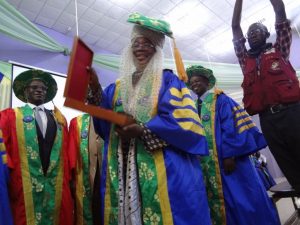 A SPEECH BY THE PRO-CHANCELLOR AND CHAIRMAN OF GOVERNING COUNCIL, AL-HIKMAH UNIVERSITY, ILORIN, ALH(DR.) IBRAHIM AHMADU COOMASSIE, GCON, NPM, mni SARDAUNAH KATSINA, GARKUWAN HAUSA,  AT THE THIRD CONVOCATION CEREMONY OF THE UNIVERSITY ON FRIDAY 20TH AND SATURDAY, 21ST SETPEMBER, 2013, AT THE UNIVERSITY AUDITORIUM
Pleasantries
I am filled with great delight to welcome you all to this significant event marking the Third Convocation Ceremony of our University, Al-Hikmah University. First and foremost, I give all praise, all adorations and all glorifications to Allah who has given us His divine grace and mercy to witness this Third Convocation Ceremony. On behalf of the Governing Council, I heartily welcome you. I welcome the Pioneer Chancellor, Alhaji Sayyu Dantata and commend him for his unfailing assistance and encouragement to us.
Today's ceremony attests to the rising profile of a young university well equipped to promote academic excellence, moral consciousness and spiritual uprightness of our teeming youths. The curriculum of Al-Hikmah University is erected on the tenets and cornerstones of Islamic philosophy and this explains why, like a mustard seed sown in 2005, it has sprouted and brought forth rich foliages that are producing buds, flowers and fruits. Today, we are reaping another bounteous harvest, as the institution is turning out a set of 506 graduands for the 2012/2013 academic session for the conferment of different degrees.
The quality of our graduands is reflected not only in the number of graduating students, but also in the fact that instead of eight (8) students that had First Class (Honours) in the 2011/2012 academic session, we now have 14 students in First Class (Honours).  This is a testimony to our steady quantitative and qualitative growth. Al-Hamdulillahi Robbil Alameena.
The Chancellor, Distinguished Ladies and Gentlemen, with all sense of truth and sincerity, Al-Hikmah  University is growing and the growth covers all segments of the University administration in terms of more quality students  turned out, increase in qualified human resources and infrastructural development, all geared towards promoting a functional institution.  In less than a decade of its establishment, Al-Hikmah University has flourished even beyond the dreams of its architects!
For these and other laudable achievements recorded by the University, I want to commend the clear mission, vision, sincerity of purpose and financial commitment of the Founder, Alhaji (Chief) AbdulRahim Oladimeji. (OFR), The Jagunmolu of Igbominaland and The Arogundade of Lagos, and congratulate him for the actualization of his dream to provide quality education to the youths generally. It is commendable and worthy of note that Alhaji (Dr) AbdulRahim Oladimeji does not meddle in the day-to-day running of the University, but leaves it in the hands of accomplished educationists and reputable administrators and technocrats, headed by the indefatigable Vice-Chancellor, Professor Sulyman Age Abdulkareem. I pray Allah (SWT) to continue to give the Founder sound health, abundant wealth and wisdom wrapped in peace, tranquility and longevity so that he will continue his laudable goal of providing sound and quality university education to our teeming youths.
The Chancellor, Distinguished Ladies and Gentlemen, I want to seek your permission to enumerate some of the resounding achievements the University has recorded since the Second Convocation. These achievements, with the support of Allah (SWT), the singular efforts of Alhaji (Chief) (Dr.) Abdul-Rahim Oladimeji (OFR), assisted by philanthropic organizations and individuals in Nigeria, include:
–           Completion of Al-Hikmah University's Law College Complex at Atere Campus;
–           Accreditation of all our courses by the NUC;
–           Movement of College of Education to its designated place in Igbaja Campus;
–           Construction of Student/Staff/Community ICT Café;
–           Fibre Optic Links Bandwidth 10 MBPS Subscription for Adeta and Igbaja  Campuses;
–           Completion of Student Shopping Hall to complement the Student  Recreation Centre;
–           Developmental work on the Sporting Arena at Atere Campus in progress
–           Commencement of Postgraduate School soonest.
Distinguished Guests, Ladies and Gentlemen, we owe a lot of gratitude and unalloyed appreciation to our Chancellor, Alhaji Sayyu Dantata, for the construction of the University's College of Law Complex. In addition, he also pledged to assist us in building Staff Quarters and Student Hostels. I pray Allah to continue to guide and protect him and give him the zeal, willingness and conviction to redeem his pledges. It is my fervent prayer that Almighty Allah grants this illustrious son of Nigeria long life so that humanity would continue to benefit from all his wealth and generosity. I also pray that his philanthropic gesture will be highly rewarded by Almighty Allah for him and all the members of his family (Amin).
The Al-Hikmah University of our dream is a centre of excellence where human capital development and high academic attainments, anchored by the fear of Allah, could be achieved. In line with this, our academic and non-teaching staff members are drawn from the pool of highly qualified and well-trained personnel whose goal and target are the production of quality graduates, equipped with relevant training that would make them viable instruments of positive and dynamic change for the larger society. On the part of the Governing Council, we shall support all steps and ideas initiated by the Management for the improvement of the welfare of both the students and the staff of this University. It is our hope and aspiration that the University shall continue to wax stronger in the pursuit of its objectives, vision and mission.
At this point, let me congratulate those who are being conferred with the Honorary Doctor of Philosophy Degrees of Al-Hikmah University today. They are Alhaji Musiliu Adeola Kunbi, CFR, mni, my immediate successor and former Inspector General of Police, and Honorable Justice Salihu Modibbo Alfa Belgore, CON, GCON, FNMLS, LLD (HONS), former Chief Justice of Nigeria. The honorary degrees constitute a symbol of our recognition of the successes that you have recorded in your various callings and our determination to see you as our partners-in-progress. May Allah continue to give you the health, strength and wisdom to contribute immensely to the growth of education in Nigeria and also be relevant in the development of humanity in general.
I sincerely thank individuals and organizations who have made significant contributions to the actualization of our dream since the inception of Al-Hikmah University and, particularly, since the past one year. I specially express my gratitude and appreciation to my colleagues in the University Governing Council to whom I owe much of the success the Council must have recorded since our last convocation ceremonies. I am highly delighted by the candour and passion of the Vice–Chancellor, Professor Sulyman Age Abdulkareem, whose dedication to duty and indefatigable spirit have helped to entrench an enabling environment for us to work together as a team to the benefit of the overall progress of the University. I equally express my profound appreciation to the University Management, Senate, the academic and non-teaching staff for working hard to make Al-Hikmah University move on the path of excellence that we all desire for it. I must also not forget to commend the entire students of the University for their sense of discipline and decorum which promote the much desired peace on the campus that facilitates proper teaching and learning.
I sincerely appreciate the spirit of love and comradeship demonstrated by all our invited guests who honour us with their personal presence or show their commitment to our cause through their messages of solidarity and goodwill. May Allah reward you all in large measures. Once again, I felicitate with our dear students whose day of joy we are celebrating today and we sincerely rejoice with their parents.
Finally, I pledge my unflinching support and dedicate myself to the progress and success of Al-Hikmah University and pray that Allah (SWT) will continue to be our overall support in our determined efforts to pilot the University to an enviable height.
Once again, thank you all very sincerely. May Allah continue to protect and guide us.
Wassalamu 'alaikum, warahmatullahi wabarakatuhu