Meet Prof. Noah Yusuf – The New Vice-Chancellor of Al-Hikmah University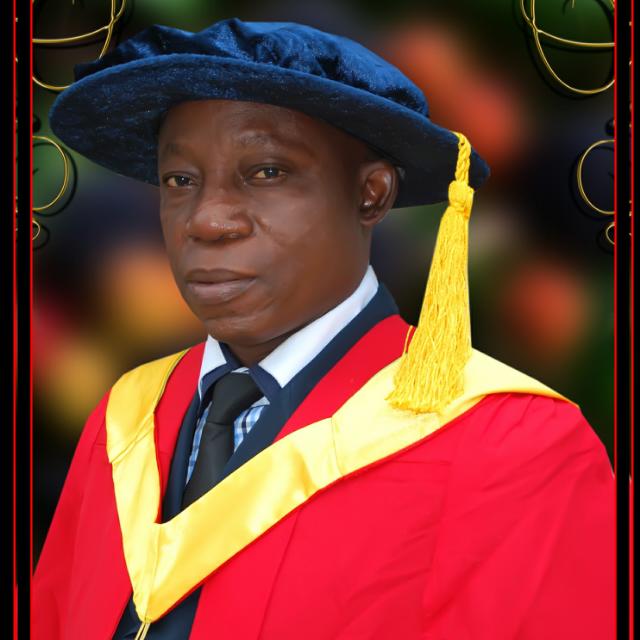 Prof. Noah Yusuf of the Department of Sociology, University of Ilorin, the Director of the institution's Centre for Peace and Strategic Studies (CPSS) has been appointed by the Al-Hikmah University as the Vice Chancellor.
Born on June 26, 1964 in Lagos State, Prof. Yusuf had his elementary education at the Community L.E.A. Primary School, Okeya-Ipo, from where he proceeded to Omupo Grammar School, Omupo, for his secondary school education from 1974 to 1979.
Between 1979 and 1981, he was at the School of Basic Studies of the then Kwara State College of Technology (now Kwara State Polytechnic), Ilorin, where he sat for the University of Cambridge-moderated GCE Advanced Level examinations.
He later gained admission into the nation's premier University of Ibadan in 1983 to study Sociology. He graduated in 1986 with B.Sc (Honours) in Sociology and subsequently did his mandatory National Youth Service programme in Iperu-Remo, Ogun State.
This highly-respected academic returned to the University of Ibadan for his postgraduate studies. He, thereafter, obtained the Master of Science (M.Sc.) and Ph.D. both in Sociology from the same University in 1990 and 2003, respectively.
Prof. Yusuf commenced his eventful working career as a Part-Time Lecturer in the General Studies Unit of the Kwara State College of Education, Ilorin, in 1991. Later in the same year, he was employed as a Member, Editorial Board of the then Nigerian Herald under the Editorship of renowed journalists – Alh. R.A. Yusuf and Mr. Mola Olaniyan
The Director began his academic career in 1992 with his appointment as an Assistant Lecturer in the Department of Sociology, University of Ilorin, where he rose through the ranks to become a Professor in October, 2012.
This eminent scholar was at three different times the Head, Department of Sociology, University of Ilorin. He held the office between 2003 and 2004; 2010 and 2012 as well as between 2016 and 2017. He was also the Sub-Dean, Faculty of Social Sciences, University of Ilorin, from 2002 to 2003.
Prof. Yusuf's career as a University teacher has not been restricted to the Better By Far University. He was the foundation Head, Department of Sociology, Ibrahim Badamasi Babangida University, Lapai, Niger State, from 2006 to 2007.He was also a Visiting Professor at the Osun State University, Osogbo, Okuku Campus, between 2014 and 2015.
The don presented the 151st Inaugural Lecture of the University of Ilorin, entitled "Work, Culture and Society: The synergy that reflects our everyday existence" on October 20, 2014.
Prof. Yusuf is a member of many distinguished local and global professional bodies, some of which include the Nigerian Anthropological and Sociological Practitioners Association (NASA), and the Social Science Council of Nigeria (SSCN).He is also a Member, Chartered Institute of Personnel Management of Nigeria (CIPM), American Sociological Association (ASA), and Nigeria Industrial Relations Association (NIRA). He is also a member, Chartered Institute of Stockbrokers (CIS) and Institute of Chartered Mediation and Conciliation (ICMC)
This affectionate scholar was invested as a Fellow, Society for Peace Studies and Practice (SPSP) during the 2018 National Conference at the National Open University of Nigeria (NOUN) Abuja.
Prof. Yusuf has participated in several academic researches and national assignments among which is the Kwara State Project Co-ordinator, National Survey on Child and Maternal Health sponsored by the United Nations Population Fund (UNFPA) from August to November, 2008.
He also served as either the Chairman or Member on many National Universities Commission (NUC) Accreditation Teams to several Nigerian Universities from 2012 till date. He was also appointed as the Facilitator/United Nations Contractor, High Level Dialogue Forum for Peaceful Elections in Kwara State, jointly organised by the National Peace Committee (NPC) and the United Nations Development Programme (UNDP), held on 11th February, 2019.
Prof. Yusuf was the External Examiner to the Department of Sociology, University of Ibadan from 2016 to 2017.He also served as an External Assessor to both the National Institute for Security Studies (NISS), and the Nigerian Defence College (NOC) both in Abuja.
Prof. Yusuf was appointed Director of the Centre for Peace and Strategic Studies, University of Ilorin, on November 6, 2017.
With the cooperation of his dedicated academic and administrative staff, Prof. Yusuf has, undoubtedly, repositioned the Centre as a model postgraduate academic unit in the University and as well as the foremost Peace Institute nationally and internationally.
With no fewer than 56 academic publications so far, Prof. Yusuf has served as the Editor-in-Chief of several reputable Journals including the Lapai Sociology Review (LSR), between 2006 and 2007; Ilorin Journal of Sociology (IJS) from 2012 to 2017; Ilorin Journal of Business and Social Sciences (IJBSS) from 2015 to 2017; Osun Sociological Review (OSR) between 2016 and 2017; and The Journal of Peace, Security and Development (JPSD) since 2017 till date.
A devout Muslim, Prof. Yusuf is the Co-ordinator/Secretary, Zakat and Sadaqat Committee, Nasrullahi-lFathi Society (NASFAT), Tanke Branch, Ilorin.
He is also a notable participant in community development. He is currently serving as the Secretary, Okeya-Ipo Community Project Management Committee.
Prof. Yusuf, who radiates simplicity, peace, piety and humility, is happily married with children.