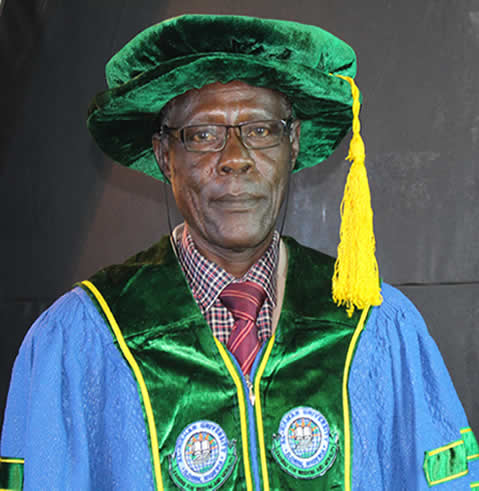 Prof. A.T. Shehu
Born on 8th Day of December, 1952, He attended primary and secondary schools in Lagos and Ilorin between 1959 and 1971
He started his public service career with the Nigerian Prison Service in November 1974, serving in Ilorin and Kano States. He was the best all-round student during his training at the Prison Training School, Kaduna in 1976. He however left the service in 1978 in search of better academic attainment.
On the 12th April, 1978, he started his academic career as a primary school teacher at Oloro LGEA Primary School, via Agbeyangi in Kwara State. He was later transferred to Okelele LGEA Primary School, Ilorin and was there until 30th October, 1980 when, having acquired additional qualifications, he joined to co-start the United Community Secondary School, Unity Road, Ilorin, where he later acted as the Vice-Principal.
Professor A.T. Shehu also worked as an Accountant with the Kwara State Teaching Service Commission between 1985 and 1999, having acquired relevant qualifications in accounting. He qualified as an Associate member of the Association of Cost Executive Accountants, London, in 1985 and holds a professional Diploma in Public Accounting and Auditing all with distinction. He rose through the ladder to become a Chief Accountant in the Kwara State Teaching Service Commission before he finally transferred his service to University of Ilorin as an Assistant Lecturer in the Faculty of Law, on 1st April, 1999 having attended Usmanu Danfodiyo University, Sokoto, between 1992 and 1996 to read Common and Islamic Law and graduated with LL.B. (Second Class Upper). He latter successfully attended the Obafemi Awolowo University, Ile-Ife, Nigeria for his Masters of Law degree and proceeded to University of Jos, Nigeria, for Doctorate Degree, which he successfully completed in 2009.
Before joining Al-Hikmah University, Ilorin, Nigeria, Professor A.T. Shehu was Ag. Head of Department of Public Law, Faculty of Law, University of Ilorin, Nigeria. He has to his credit many publications including articles in referred local, national and international academic journals. He was the pioneer substantive Dean of Law from October, 2015 to March, 2019 when he was elected by the Senate of the University as an acting Deputy Vice Chancellor (Administration). He also represents the hallowed Senate of the University on the University's Governing Council.
He is also a member of several professional bodies, among which are the Nigerian Bar Association, Nigerian Association of Law Teachers, Nigerian Association of Constitutional Law, Intellectual Research Institute, African Network of Constitutional Law, International Association of Constitutional Law and many others. He is married with children.