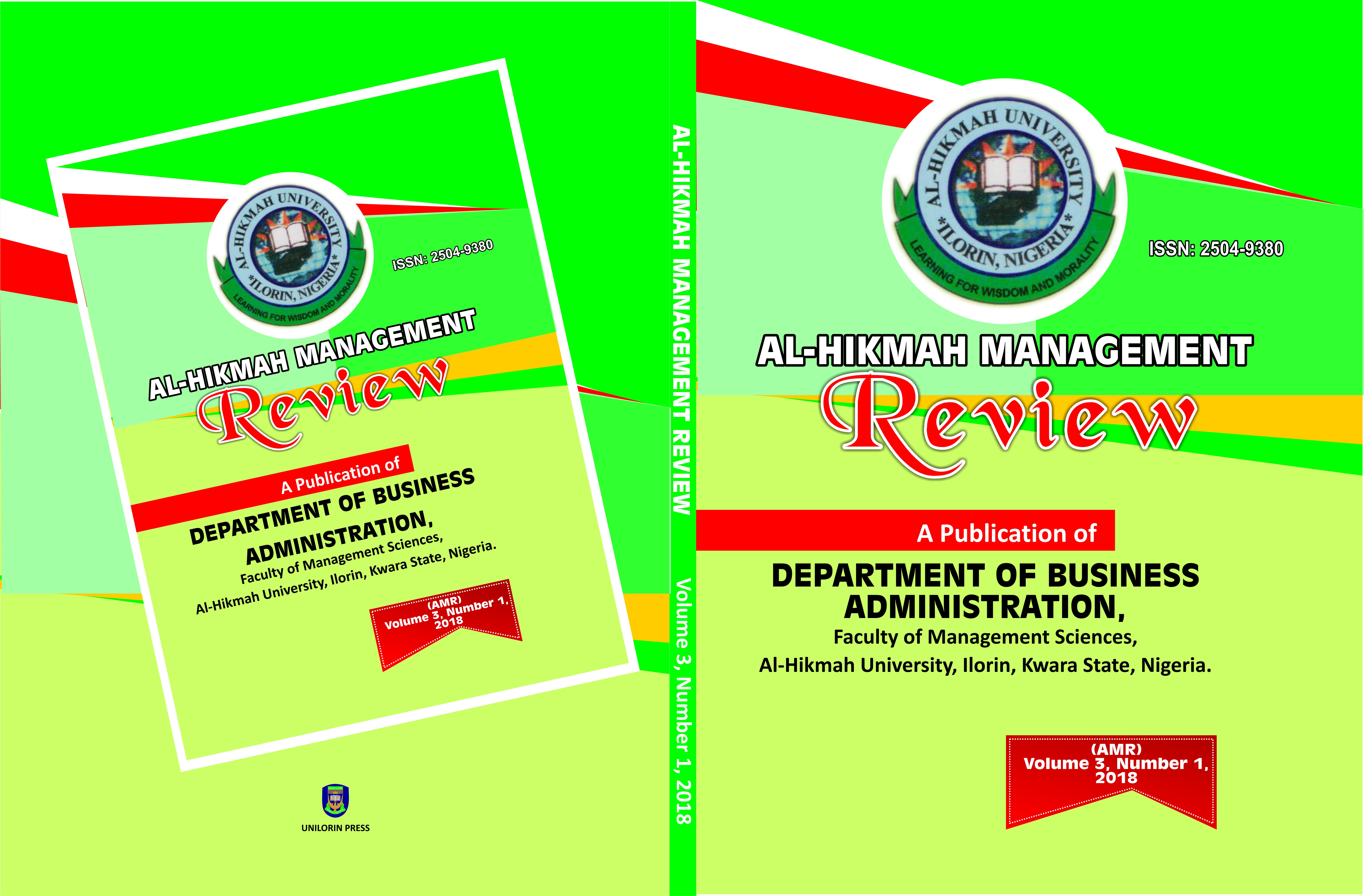 AL-HIKMAH MANAGEMENT REVIEW
CALL FOR PAPERS
AL-HIKMAH MANAGEMENT REVIEW offers a highly readable research-oriented collection of articles dealing with virtually all major aspects of Management disciplines, as it is practiced world-wide. The journal welcomes articles in all areas of management and economics. Both theoretical and applied manuscripts will be' considered for publication. Theoretical manuscripts must provide a clear link to important and interesting management and economics applications.
AL-HIKMAH MANAGEMENT REVIEW is a journal published by the Department of Business Administration, AI-Hikmah University, Ilorin, Kwara State. Articles, reviews and notes that are judged potentially suitable for AL-HIKMAH MANAGEMENT REVIEW will be assessed by, at least, two experts. Papers submitted for publication should preferably be empirical and must deal with typical management problems. No responsibility is assumed for opinions expressed by authors.
Manuscripts are welcome from academics and professionals, should be typewritten, double-spaced using Time New Roman 12 font, and referencing style is APA6 format. Every submission should be in both hard and soft copies (hard copy in triplicate) and should be accompanied by:
An abstract of between 150-250 words, that gives a clear summary of the article;
Not more than 25 pages double spaced;
The author's bibliography in not more than 50 words; and
A statement that the article has not been submitted for publication elsewhere.
AL-HIKMAH MANAGEMENT REVIEW will be published twice in a year (June and December).Publication fees is Twenty Thousand Naira only (20,000: 5,000 for assessment and 15,000 for publication/author's copy).
* * You can pay the assessment and publication fees into:
Bank Name; Access Bank PIc. Ilorin
Account NO. 0020806653.
Name: Aremu, MoriamAdeyemi
All correspondence regarding submission of articles, subscriptions, reprints, and advertising of business should be directed to:
The Managing Editor,
AL-HIKMAH MANAGEMENT REVIEW,
Department of Business Administration,
AI-HikmahUniversity, Ilorin,Kwara State, Nigeria.
E-mail: [email protected]~ (08030703274)